This is my list of the 10 most influential Pistons of the last decade. The ranking is based on Time Magazine's Person of the Year and will be ordered by which Piston – including any member of the organization – "for better or worse, has most influenced events" in the last decade.
Honorable mention (in alphabetical order): Michael Curry, Grant Hill, Allen Iverson, John Mason, Antonio McDyess, Flip Saunders, Jerry Stackhouse, Rodney Stuckey, Corliss Williamson, Tom Wilson
10. Tayshaun Prince
Tayshaun Prince (Tom Strattman/AP)
In addition to producing at a near-All Star level for seven seasons, Prince made the Pistons' greatest play of the previous decade.
He ran the length of the court to block a Reggie Miller breakaway layup, preserving a Detroit win in Game Two of the 2004 Eastern Conference finals. The play itself was spectacular, but the ramifications were even more extraordinary.
Rasheed Wallace had guaranteed a win before the game, and Prince's block helped Detroit maintain its swagger, even its series with the Pacers and eventually win the NBA Championship.
Prince, the Pistons' leader in games during the previous decade, was one of the league's premier wing defenders at his peak.
When Detroit trailed, 3-1, against the eighth-seeded Magic in the first round of the 2003 playoffs, Pistons coach Rick Carlisle inserted Prince, then a little-used rookie, into the rotation.
The former Kentucky Wildcat covered Tracy McGrady, who led the league in scoring during the regular season and had made 52 percent of his shots in the series.
But with Prince's 7-foot-2 wingspan bother him, McGrady made just 36 of his shots in the final three games – all Pistons wins. That led to the first of Detroit's record six straight conference finals.
His strong defense of Kobe Bryant in the 2004 Finals was also key to the Pistons' title.
The only reason he's not higher is his defense has been quite mediocre the last couple years.
But at one point, he appeared on track to be a star. Still, he's certainly been one of Detroit's top players of the decade.
9. Rasheed Wallace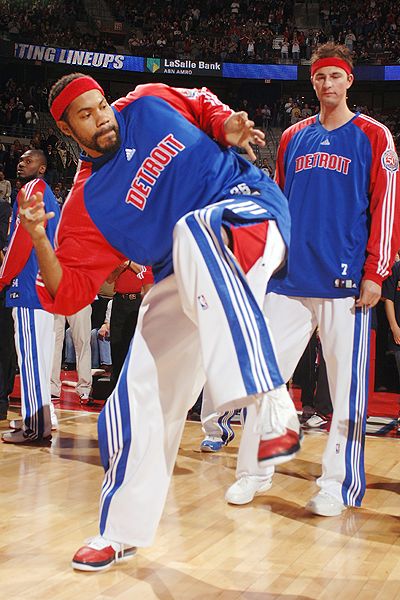 Rasheed Wallace (D. Lippitt/Einstein/Getty Images)
Despite all the worries about his tumultuous tenure in Portland, Rasheed Wallace immediately became the perfect fit in Detroit.
When the Pistons traded for Wallace in Feb. 2004, they went from a good team to a great one. They finished the regular season 20-6 and stormed through the playoffs to win a championship.
He was an excellent defensive player in his own right, but he also made Ben Wallace even better by allowing him to move to power forward.
He was a great teammate – arguably too good. The entire team took on his persona, for better or worse.
The Pistons whined to the refs and only played their best with their backs against the wall. They also embodied Sheed's swagger.
He guaranteed wins. He danced before games. He taunted opponents ("Ball don't lie!").
His end in Detroit was nearly as ugly as his beginning was ideal. Wallace clashed with Flip Saunders and sulked under Michael Curry the next year. It was sad how easy a decision was to let him walk last summer.
Since Grant Hill signed with Orlando, Rasheed was the most talented Piston in the remaining nine years and four months of the decade. You can decide if that's a sincere compliment or back-handed.
Regardless, he accelerated the Pistons' title track and made them one of the league's premier teams of the decade.
8. Darko Milicic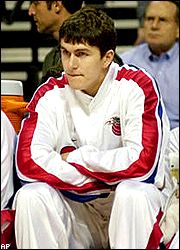 Darko Milicic (AP)
Milicic is the worst player on this list – by far. He averaged 1.6 points and 1.2 rebounds in his two-and-a-half years with Detroit. Austin Daye, who's hardly been spectacular as rookie this season is just 16 points from matching Darko's Piston total.
But try having a conversation with a fan of another team without Darko coming up. He's Joe Dumars' scarlet letter. Every wise move the general manager makes is still overshadowed by Darko in the court of public opinion.
Had Dumars taken Carmelo Anthony, Chris Bosh or Dwayne Wade, the Pistons might have become a dynasty. They already had an excellent team and adding a player like one of those three could've greatly impacted the next 10 NBA titles.
If only it were that simple.
Many forget how big Darko was in NBA circles when he was drafted. He wasn't an unknown. He was the consensus No. 2 pick months before the draft.
I think every team would've taken Darko with the No. 2 pick. Not most teams, not 28-of-29 teams. Every single team.
The comparisons were astounding: Dirk Nowitzki with defense, Wilt Chamberlain, Bill Russell with a jumper.
That's why Darko's poor play was so shocking. He makes Sam Bowie look like a good draft choice. At least, Bowie was a good player before his injuries.
Darko was just a bad basketball player. And his shadow will hang over the Pistons for a long time.
7. Rick Carlisle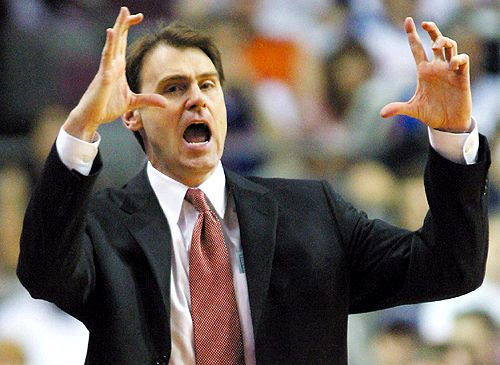 Rick Carlisle (Tom Pidgeon/Getty Images)
Before Joe Dumars hired Rick Carlisle, the Pistons were a wayward franchise. They had missed the playoffs in five of the nine seasons since Chuck Daly left. And they lost in each of the four years they made it, including two sweeps.
Carlisle came in and commanded respect. He preached defense and a grind-it-out game. His first great move was getting Jerry Stackhouse, a scorer with a selfish streak at times, to buy in.
He took a team that started Chucky Atkins, Stackhouse, Michael Curry, Ben Wallace and Clifford Robinson and made it a 50-game winner.
Carlisle actually led the Pistons to 50 wins in each of two seasons at the helm. Detroit won a playoff series his first year and went to the conference finals the next season. He appeared to be one of the league's bright, young coaches.
But he was fired – supposedly for treating lower-level employs poorly to the dismay of Bill Davidson. In a strange scene, Carlisle showed up to his own firing press conference, sat next to Joe Dumars, and the pair answered questions together.
If Carlisle's replacement wasn't so great, the former Boston Celtic would've gotten more credit for the job he did in Detroit. And his strange exit would've drawn more attention, too.
6. Richard Hamilton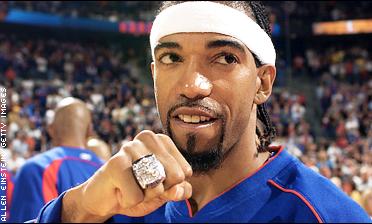 Richard Hamilton (Getty Images)
The image of Hamilton endlessly running running around screen after screen holds some root in fact. No Piston has played more minutes in the regular season or playoffs this decade.
Hamilton leads the Pistons in points scored in both the regular season and playoffs this decade. Partially by efficiency and partially by volume, Hamilton has become one of the Pistons' top players ever.
He's been a starter eight seasons this decade – more than any other Piston.
He outlasted Ben Wallace and Chauncey Billups. By default, he became the Pistons' leader. But Allen Iverson's season in Detroit and Wallace's return usurped some of that role.
Even as second or third banana, Hamilton was key to the Pistons' six straight conference finals appearances. His play always seemed to pick up in the playoffs, especially when he put the Pistons' offense on his back in the 2004 conference finals against the Pacers, an excellent defensive team.
Hamilton went from a young, talented player when the Pistons traded Jerry Stackhouse for him to an All-Star. He's a class act, and the Pistons have been fortunate to have him.