This is my list of the 10 most influential Pistons of the last decade. The ranking is based on Time Magazine's Person of the Year and will be ordered by which Piston – including any member of the organization – "for better or worse, has most influenced events" in the last decade.
Honorable mention (in alphabetical order): Michael Curry, Grant Hill, Allen Iverson, John Mason, Antonio McDyess, Flip Saunders, Jerry Stackhouse, Rodney Stuckey, Corliss Williamson, Tom Wilson
10. Tayshaun Prince

9. Rasheed Wallace

8. Darko Milicic

7. Rick Carlisle

6. Richard Hamilton
5. Bill Davidson
Bill Davidson (Bob Rosato/SI)
Davidson isn't higher because many of his accomplishments and key decisions came before this decade. But he continued to lead the Pistons in the right direction in the 21st century.
He was a constant in his front-row seat on the baseline. At his age, he often showed up late and left early. And he owned a lot properties.
But there was no question the Pistons were his most treasured asset.
Davidson's biggest move of the decade was hiring Joe Dumars to be the team's general manager. He gave Dumars freedom to run the team, and that paid huge dividends. Davison encouraged Dumars to trust his plan, and that led to a title in 2004.
Two notable exceptions to Davison's no-meddling policy: the firings of Rick Carlisle and Larry Brown. Davidson had issues with Carlisle's treatment of Pistons employees and Brown's flirtations with other teams. Davidson gave his people room to succeed or fail, but he demanded respect and loyalty.
The Pistons are an extremely well-run franchise, and that's, in large part, because of Davidson influence.
Davison died March 13, capping one of the greatest ownership tenures in sports history.
4. Larry Brown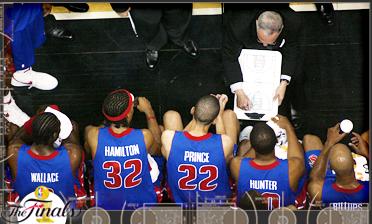 Larry Brown (Chris Birck/Getty Images)
Larry Brown coached six different teams for 21 seasons before coming to Detroit. He had made bad teams good and pretty good teams very good. But he had never made a very good team great — until he took over the Pistons.
The Pistons were a new challenge for Brown. Rick Carlisle had already instilled the defense-first attitude Brown cherishes. All the groundwork had been laid. Brown's role was to make them a champion.
He transformed Chauncey Billups from an undersized scoring guard to one of the league's top point guards.
He made Richard Hamilton develop an all-around game.
He instilled a system that took advantage of Tayshaun Prince's defensive talents.
He involved Ben Wallace in the offense enough to make the sometimes-moody star happy.
And, maybe his biggest accomplishment, he convinced Rasheed Wallace to play in the post and give a high level of effort.
When the Pistons won the 2004 title, I naively thought Brown had found his home. I didn't know what he had been searching for when he moved from job to job, but I thought he had found it in Detroit. He had what always wanted: a team that played the right way.
But his ego and dalliances with Cleveland ultimately ended his tenure in Detroit.
I don't know if Brown did a better coaching job anywhere else, but he was nothing short of amazing with the Pistons.
3. Chauncey Billups
Chauncey Billups (Allen Einstein/Getty Images)
Chauncey Billups wasn't fully appreciated until he left Detroit. Besides being an excellent player, Billups was the glue that held the team together. Many of Detroit's off-court problems last year were the result of Billups not being around to squelch them.
Stepping up in so many clutch situations, Billups earned the nickname, "Mr. Big Shot." His pinnacle moment came in the 2004 Finals, when he was named Finals MVP.
Billups had more assists, steals, 3-pointers made and free throws made than any other Piston this decade. He's also second in points scored.
Billups has been on seven teams in his career, including his hometown Nuggets twice. But there's no question that Detroit is his NBA home.
2. Ben Wallace
Ben Wallace (AP Photo/Paul Sancya)
Ben Wallace was Detroit Basketball.
Hard work, defense, hustle. That was Wallace.
He was the game's best defender. Sometimes, he seemed like he guarded all five opponents on a single possession.
He was also the fan-favorite of the decades. Not long after he arrived in Detroit, afro wigs and No. 3 jerseys began to fill the Palace stands.
How could you not love his story? Undrafted to the best player on a title team, Wallace built himself through hard work.
Wallace led the Pistons in rebounds, blocks, rebounds per game and blocks per game in the decade.
He nearly made No. 1 because he was a central figure in the Pistons' biggest moment of the decade: the Palace brawl. His shove of Ron Artest prompted the whole incident, which shaped the public's view of the NBA.
1. Joe Dumars
Joe Dumars (Allen Einstein/NBAE/Getty)
The 2000-2009 Pistons are Joe Dumars' team.
He was hired six months into the decade, and ever since, he's put his stamp on the Pistons. They won a title, and their window as a contender was open longer than most teams'.
He made so many moves to improve the team:
Acquired Ben Wallace and Chucky Atkins in a sign-and-trade for Grant Hill
Hired Rick Carlisle and Larry Brown
Picked up savvy veterans like Cliff Robinson, Zeljko Rebraca, Jon Barry and Corliss Williamson for end-of-bench players and second rounders
Drafted Tayshaun Prince, Mehmet Okur and Jonas Jerebko
Signed Chauncey Billups
Traded Jerry Stackhouse for Richard Hamilton
Turned first-round busts Darko Milicic, Rodney White and Mateen Cleaves into new first-round picks
Traded spare parts and draft picks for Rasheed Wallace
Convinced Antonio McDyess to sign for less money than he could've received elsewhere
Dumars has made many questionable decisions lately (drafting Darko, trading Billups for Allen Iverson, signing Ben Gordon and Charlie Villanueva). But at 46, he shows no signs of slowing.
He's the favorite to top this list for the next decade.
Tags: Ben Wallace