Detroit Pistons: yea or nay for G-League team?
The NBA season has begun, but what about the G-League, and will the Detroit Pistons affiliate, the Grand Rapids Drive, get to play? It is kind of murky.
There are two professional basketball teams in the state of Michigan. One, the Detroit Pistons, opened its exhibition season with a game against the New York Knicks on December 11.
The other pro team, the Grand Rapids Drive of the G-League, is not quite settled on when it will start. Or, if they will have a season at all.
What is going happen to the 2020-21 G-League season is really up in the air at the moment. There has been plenty of talk and rumors but no official announcement from either the NBA or G-League offices.
The G-League (formerly known as the D or Developmental League), is a minor league for the NBA. It provides a place where its inexperienced players can work on their game, benchwarmers can get real playing time or injured players can rehab and work their way back into shape.
It also provides a showcase for players who may have been missed by NBA scouts, who want to prove they can play in the big time.
The problem the G-League has in the current COVID-19 environment is more economical than health based.
Yes, the Pistons are playing. But they are playing in an empty Little Caesars Arena (except for one fan). They can survive on the money paid to televise their games by Fox Sports Detroit as well as their share of the multi-billion national TV contracts the league has with TNT and ESPN.
G-League teams business models are quite different. They rely mostly on gate receipts from fans to take care of their operational expenses. No fans and a G-League team can not exist, as it would have virtually no revenue.
The NBA started its own G-League team, the Ignite, composed of NBA veterans and young stars just out of high school not eligible for the NBA draft. So the league really wants to have some kind of G-League season.
One thought is to have a G-League bubble, just like the NBA players did in Orlando. This time, it would be in suburban Atlanta.
Reportedly, the Pistons are among those teams who have informed the league office they have no interest in entering a G-League team in an Atlanta bubble.
On the face of it, the Pistons decision seems strange. They are in a full-blown youth movement. They are the sixth-youngest team in the NBA. Detroit drafted four players, traded for a couple others with limited experience and signed rookie free agents LiAngelo Ball and Anthony Lamb.
If any NBA team could use a G-League team, it would seem to be the Pistons. They certainly have enough players who could use the time on one. Last year, Detroit sent its first-round draft pick, Sekou Doumbouya, to play for the Drive.
The Pistons do have two players signed on two-way contracts (meaning they can play in the G-League and also a certain amount of NBA games) in second-round draft choice Saben Lee and forward Louis King, who was a two-way player last year, as well. Ball and Lamb are on Exhibit 10 contracts, which means they make up to $50,000 extra if they do not make the Pistons but agree to play for their G-League team.
So why is Detroit signing players to G-League contracts but not putting a team in the proposed G-League bubble?
Most likely answer: Atlanta is a lot farther away from Detroit then Grand Rapids.
Most NBA teams like their G-League affiliates to be close. That way, they can shuttle players for games based on need between the two teams. They can also monitor their development more closely and get in some extra practice time for young players at a moment's notice.
The Pistons did not think even Grand Rapids was close enough for them. They bought a G-League franchise currently in Arizona and are moving it to Wayne State University's campus in Detroit for the 2021-22 season.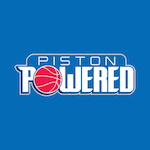 Want your voice heard? Join the PistonPowered team!
Write for us!
The problem is, with the virus still out there, multiple players could be ruled ineligible to play the day of a game. The NBA tests for the virus every day.
If, suddenly, four Pistons players get a positive result. Getting Lee and King quickly to join the team, if based in Atlanta, could be a problem.
The NBA has loosened its rules for this season involving two-way contract players. Before, they could spend only 80 days total (games and practices) with the NBA team, before having to be offered a regular NBA contract.
For this season, two-way players can attend all of an NBA team's practices and play in 50 of the 72 scheduled games.
The active game roster has been expanded from 13 to 15, so there is a better chance they will see some action. Another new rule is, if not on the active roster, two-way players can still come to the games, they just can not sit on the bench.
Outside of having to sit out a few games, the two-way players are basically the 16th- and 17th members of the main club's roster.
Having seen in the NFL and college how quickly a team can suffer losses due to positive tests or league health protocols, Detroit obviously feels having those two extra bodies close to them is important.
The Pistons are far from the only team who has decided not to have a team in Atlanta. The Miami Heat (who use their G-League team a lot for development) and the Los Angeles Lakers are also among those who have opted out.
And, just because they are not having a team of their own, does not mean Detroit could not place a couple of players on another team. That might be the answer to finding a home for the Exhibit 10 players plus Jaylen Hands, who the Pistons traded for but is not on their training camp roster.
The ultimate solution, of course, is to have the G-League start back up and have a regular season at its regular sites.
Now when that could happen:
In the 2019-20 season, the G-League season was supposed to end on March 31, with playoffs to follow thru the month of April.
With vaccines now arriving, could the G-League ramp up quickly and slip in a couple of months of a regular season plus playoffs? Hopefully. Besides aiding the NBA teams, it would bring entertainment to cities across the country who have had little for the past nine months.
It would be a shame if the Grand Rapids Drive could not have one more year affiliated with the Pistons. All we know, for now, is that Detroit does have players with G-League clauses in their contract, but they will not have their own team in it if there is a G-League bubble.
Stay tuned.