Pistons draft: Is Bennedict Mathurin worth the 5th pick?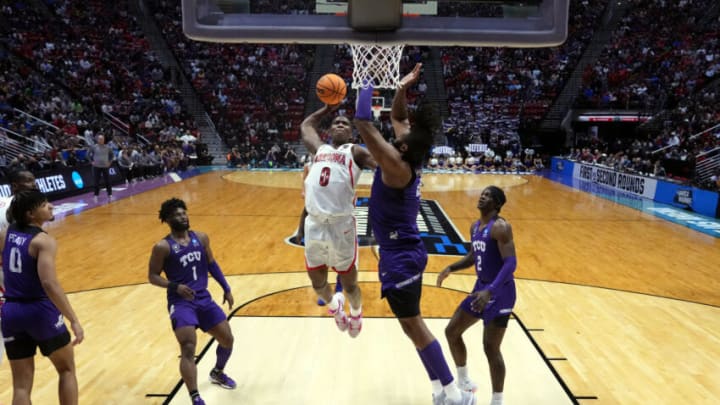 Arizona Wildcats guard Bennedict Mathurin Credit: Kirby Lee-USA TODAY Sports /
People look at the draft lottery order after the 2022 NBA Draft Lottery Credit: David Banks-USA TODAY Sports /
We've officially entered the month of June, signifying the start of this year's NBA Finals, and the month of the  2022 NBA Draft, which will take place on June 22nd. The Detroit Pistons have the 5th pick and a lot of possibilities.
There are several talents hovering near the top of the lottery that fans are divided on. Like most drafts, players' stocks are rising and falling, and will continue to do so until the day of the draft.
One player whose stock is trending upwards is Bennedict Mathurin, a guard from Arizona.
After an All-American sophomore season, Mathurin entered this year's NBA Draft. He is projected to be Arizona's first lottery pick since Deandre Ayton was selected first overall in 2018.
Although Mathurin hasn't been projected to go as high as five in most mock drafts, the order outside of the top-three is far from decided, and there's even a chance the Pistons could end up with another pick inside the top ten.
Regardless, the Canadian is certainly among the crop of players the Pistons are eyeing, and could end up in Detroit if his stock continues to ascend. Here's a look at his strengths and weaknesses, and how he fits with Detroit's current roster.
Detroit Pistons draft: Bennedict Mathurin's strengths
At 6-foot-6, 210 pounds with a 6-foot-9 wingspan, Mathurin possesses elite physical traits at the wing position. It's no secret that the Detroit Pistons are constructing a roster centered around several factors, including length and skill.
Mathurin's size is more than ideal for a shooting guard in the Pistons' lineup, and he'd fit right in alongside Cade Cunningham, Saddiq Bey, Jerami Grant and Isaiah Stewart.
Offensively, Mathurin has one of the most unique skill traits in this draft. The former Wildcat is an exceptional cutter, and constantly moves without the ball, roaming around the court in search of easy baskets.
Mathurin's movement is a vital component to his offense prowess, and it also serves as a springboard to the bulk of his scoring opportunities. On the perimeter, Mathurin thrived in Arizona's offense, where their pro-style sets allowed him to run off screens for catch and shoot opportunities, and opened straight line drives to the rim, similar to the looks NBA shooting guards get on a nightly basis.
Last season, Mathurin averaged a team high 17.7 points for the Wildcats, who finished the season 33-4, and won the PAC-12 Conference Title.
In correspondence to his off-ball movement, Mathurin is an exceptional three-point shooter. Last season, the Canadian shot just under 37 percent from long range, while attempting over six threes a game.
Mechanically, Mathurin has a terrific jumper, with great lift and a solid release point. Whether he's running off screens, coming off pick and rolls, or just catching and shooting from a standstill, Mathurin's jumper is sound, and he rarely alters his motions to get a shot off.
At this point, Mathurin's best trait may be his athleticism, which he showcased in a variety of ways at Arizona. When he wasn't scouring the perimeter in search of shots, Mathurin was finding ways into the paint, and often converting on alley-oops, dunks, and layups over the second line of defense.
These assortment of finishes were also a common occurrence in transition, where Mathurin willingly filled lanes, and often outran opposing defenses to the hoop for easy points.
With great off-ball movement, a knockdown jumper, and an NBA-level athleticism, Mathurin has all the makings to be a solid starter, and an immediate contributor to an NBA Franchise.