The Pistons have good chance to end this 28-year drought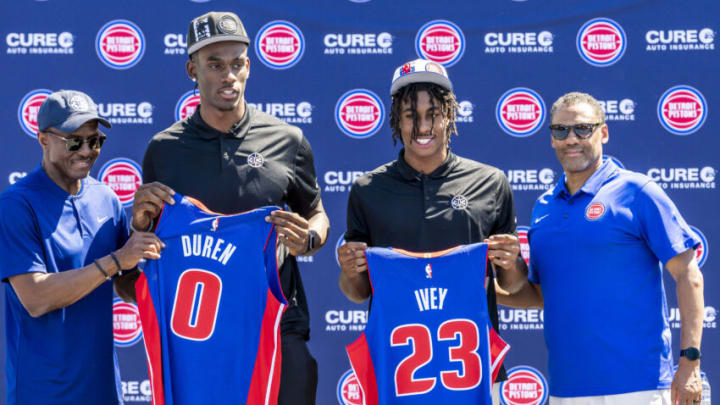 Detroit Pistons head coach Dwane Casey (left) and general manager Troy Weaver (right) pose for photos with Jaden Ivey (23) and Jalen Duren (0) during the Detroit Pistons Credit: Raj Mehta-USA TODAY Sports /
Every year a select number of writers and analysts reward the league's most productive, and (usually) most popular rookie. Last year, many felt Cade Cunningham of the Detroit Pistons could (or even should) have won the award. However, the past can't be undone and all we can do is move forward with the present.
Speaking of the present the Pistons are presently in a good position to bring a ROTY award back to the Motor City for the first time in almost three decades.
Detroit Pistons' rookies
This year the Detroit Pistons picked 5th overall and selected the explosive Purdue guard Jaden Ivey. He will quickly be a highlight reel dunker, and a for sure fan favorite on his athleticism alone.
While there's no telling what the future will hold one thing is for sure, any high draft pick has the potential to be a star in the league. In the last 30 years only one player won the award who wasn't a high draft pick (Malcolm Brogdon).
Ivey has shown that he can continually improve year after year. He barely made the top 100 list coming out of high school; however, his freshman year in college turned everyone's heads. His next season at Purdue he broke out as one of the nation's best guards and a top NBA prospect. If history has shown us anything, it's that every new season we get a new and improved Ivey. That's good news for the Detroit Pistons and better news for Ivey's ROTY chances.
Also acquired this off-season, albeit through trade, is former 5-star recruit Jalen Duren. The 6-foot-10 physical specimen will be a great addition to Detroit's front-court, and will give the Pistons some much-needed size down low.
As good as Beef-Stew has been, he still is a forward pretending to be a center. Every team still needs that vintage big man to roam the paint, perform screen and rolls and protect the rim.
Ivey clearly has the easier path to winning the award. He is more than likely going to have the ball in his hands more than Duren. He will also more than likely have more minutes than Duren. The most obvious reason is that Ivey is the more natural scorer out of the two and these awards have become solely for scorers.
The rookie landscape around the NBA
Some have dubbed this draft class as "weak". Some have stated that this is a "down year", and teams should have been looking to trade their picks while they could.
In some ways they are correct, the 2022 class isn't ranked as highly as others in the past (yet) which saw potential legends and all-time greats emerge. However, it's still a solid class with plenty of NBA-ready talent.
The top five alone has some quality young stars with a lot of upside. One thing the class lacked and still somewhat lacks is a hands down no-doubt-about-it best player. Until the season starts virtually any of the 1st round prospects could wind up being the best player of the class down the line. So far we've already seen the betting odds for several late 1st rounders be higher than that of players taken before them.
Right now as the betting odds stand, 1st overall pick Paolo Banchero is in the lead with around +200 odds according to several different betting sites.
Behind him is the 4th overall pick Keegan Murray with a +450, then come the 3rd and 5th pick, Smith and Ivey tied at +700. These odds show that Ivey is not only a favorite amongst fans, but he has a good chance to sneak past a few of the players that were taken above him. Also, with Chet Holmgren out of the race, Ivey will no longer have to outshine one of the most hyped guys.
Ivey and Duren are good quality young players with a lot to offer a team with not much to lose. The Pistons been irrelevant for a while now, but the success they seek is on the horizon with two more candidates for Rookie of the Year.