How the Pistons' offense will improve after the 2023 NBA Draft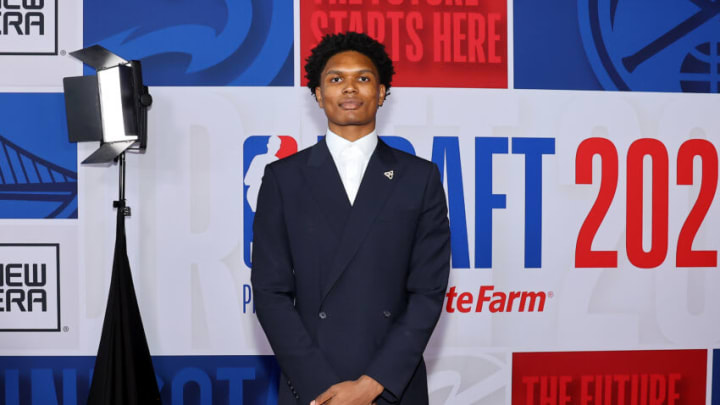 Ausar Thompson arrives prior to the first round of the 2023 NBA Draft (Photo by Arturo Holmes/Getty Images) /
The Detroit Pistons secured two very different offensive contributors in the draft. They found some shooting in Marcus Sasser and a multidimensional, athletically gifted wing in Ausar Thompson.
Both guys have high defensive ceilings, but will also help the Pistons' offense.
How the Pistons' offense will improve after the 2023 NBA Draft
The Pistons traded the 31st pick for the 25th to select Sasser, a 6-foot-2 guard who shot .438 last year in college and .384 from three. A second unit of Killian Hayes, Sasser, Alec Burks, Beef Stew, and Wiseman could have some balance. Hayes and Wiseman on high pick and rolls could be effective with three players sliding on the perimeter to knock down shots.
As a late first round pick, I don't expect Sasser to completely change the team, but his skill set fits better with Hayes than Diallo's did. As Hayes enters the final year of his rookie contract, he needs to find his way offensively. Sasser could relieve a lot of the pressure on Killian by spacing the floor.
Ausar Thompson isn't as strong a shooter as his new teammate. In fact, his greatest strengths are on the defensive end. However, ESPN NBA draft analyst Andraya Carter referred to him as a Swiss Army knife. Simply put, he does a lot of things well. He rebounds well for his size. He passes well in transition, and his offensive awareness appears to be strong.
As my colleague mentioned, Thompson is a high ceiling player who's a great fit on this team. Although his twin was considered the better prospect, the better playmaker, and the better isolation player, Ausar was the MVP of Overtime Elite, and his offense appears best when in a system that utilizes his passing and offensive awareness.
The Pistons don't need another ball handler. They need a multidimensional wing who solidifies their offense, slashes and keeps the ball moving, and Ausar should do those things well.
While his greatest contribution may be on the defensive end, his ability to get stops will create fast break opportunities. Jalen Duren, Jaden Ivey, and Thompson will be an insanely athletic combination, and Ivey and Thompson should push the pace in transition, leading to open looks.
While falling to fifth in a draft with a generational talent at the top still stings, the Pistons once again added talent, possibility, athleticism, length, and for perhaps the first time in several years, the found solutions to glaring issues in the makeup of the team.