Is Jalen Duren injured? More possible bad news for the Pistons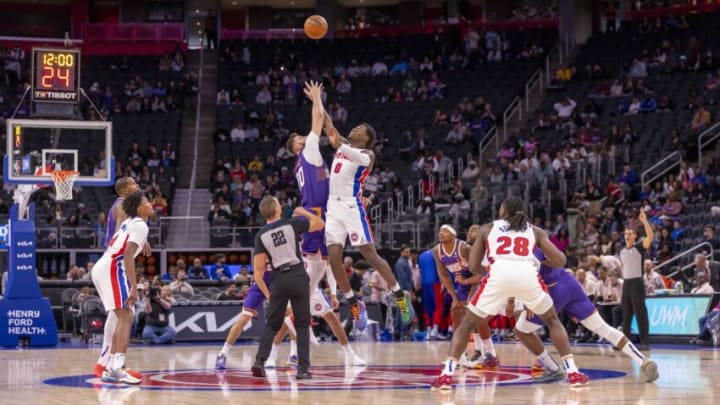 Detroit Pistons center Jalen Duren (0) and Phoenix Suns forward Nassir Little (10) start the game with a jump ball Credit: David Reginek-USA TODAY Sports /
It's been a rough stretch for the Detroit Pistons.
They've been intentionally terrible for years, selling fans on the hope of a young roster and bright future, but even that was quickly dampened last season with an injury to Cade Cunningham in the 12th game of the season.
The margin of error for the Pistons to be competitive is razor-thin, and they will need a healthy roster to have any chance of chasing a play-in spot in the 2023-24 season.
That hope has already taken a hit with an early injury to Isaiah Livers that will keep him out for at least 6-8 weeks. Bojan Bogdanovic and Monte Morris also sat out the first preseason game with minor injuries that we hope are just the team being overly cautious with their veterans.
But it's not just veterans with aches and pains to sort out, Jalen Duren was pulled from the first preseason game and there is reason to be concerned.
Is Jalen Duren injured?
The second half of the game against the Suns turned into the Marvin Bagley III show, but there was one player conspicuously absent.
Jalen Duren was pulled from the game with an ankle injury according to Omari Sankofa II of the Detroit Free Press:
Duren is now listed as day-to-day on the Pistons' injury report, so we'll have to see if he suits up against the Thunder in Thursday's second preseason matchup.
We joked all offseason about the Pistons' logjam at center, but that depth may be tested right away if Duren has to miss time. Ankle injuries are tricky (I've had a few myself) and sprains can be re-injured easily if they aren't allowed time to heal.
Hopefully, this was just a precautionary measure, but after all of the injuries the Detroit Pistons have suffered the last few seasons, count me as concerned.
After his performance in the first game, Marvin Bagley III would be Duren's likely replacement, though Monty Williams could decide to go small with Isaiah Stewart at the five, Ausar Thompson at the four and one of the veteran shooters on the wing.
These would be fine short-term solutions, but even a minor injury would cost Duren valuable developmental time with Cade Cunningham, whom he has barely played with.
The Pistons have kept quiet about Duren's injury status so far, so let's hope it was just a tweak and not something that will cost him games.